Simplifies Payroll Calculations
Simply the easiest way to track how many hours your employees have worked by pay period or by date range. Employees can clock in and out by telephone or by computer and we log the hours worked and can calculate overtime for easy payroll completion.


Provides access to time sheets from your desktop, laptop, home or office
Since Time Clock is web based, you can access your reports from any computer with an internet connection. Just log in by entering your administration ID and password and access all your time clock reports from any location.


Track Remote Attendance
Time Clock is a great way to prevent Time Clock theft and fraud. Once an employee reaches their work destination, they simply call into our 800 number or use their smartphone to clock in/out. They enter their employee ID by telephone then we record their clock in time and location of the call through caller ID. If they use their smartphone, GPS coordinates are recorded for Reports. After their work is completed, just call the system again and clock out, or use the smartphone's web app to clock out.


Manages an unlimited number of employees
Time Clocks databases have virtually unlimited data capacity to handle thousands of employees and offices. Our databases are backed up daily to protect your data from system failures.


VersiClock is Smartphone ready
View the clock in/out status of every employee at every office on your Smartphone or tablet.


VersiClock is budget friendly
This inexpensive timeclock is priced to give you the most value for your investment. We didn't add cheap bells and whistles; we provide the best in call in time clock service at the cheapest price.


VersiClock supports remote workers
Employees can clock in and out from any computer, can use a smartphone's web browser to clock in, or can call in and enter a code to clock in and out from any designated work location.
The location of the employee can be verified through caller ID or GPS (for smartphones) and
prevents time clock theft and fraud
. Remote clocking is perfect for cleaning services, security companies and home health care.
When an employee arrives at the job location, they clock in by entering a Site ID and their employee PIN. Our servers record the employee, date, time and caller ID information (or GPS location) for easy retrieval and payroll calculations.
Reports
Fully customizable reports lets you set your billing method for a one click calculation of hours. Supports weekly, bi-weekly, semi-monthly, and monthly pay periods with complete timesheet and overtime reports to make bookkeeping a snap.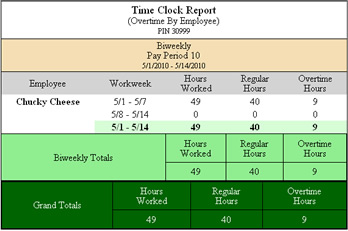 Administration Login
---
Forgot Password?